MEET MARINE ANIMALS...
Share a unique moment with seals and marine calves
Discover the world of seals and marine calves in the heart of the Allier. Get to know them on land and share an unforgettable moment with them in the water. Alongside the passionate healers, you will be made aware of the necessary protection of these animals as well as the threats hanging over them in their natural habitat. By participating in this experience you will support the actions of the Le PAL Nature Foundation.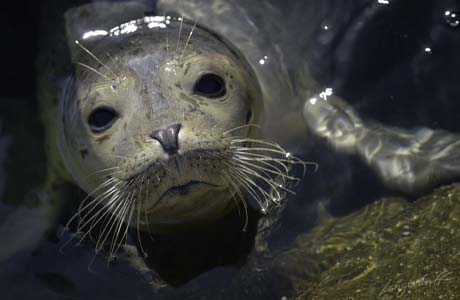 Questions / answers
HOW IS THIS ACTIVITY GOING TO TAKE PLACE?
You are taken care of by a healer as soon as you arrive at the activity meeting point.
You equip yourself with the equipment made available by the park.
You receive all the safety instructions that you agree to respect throughout the program.
The activity takes place in 3 stages:
Presentation of the complex, the species, the ecological issues, the threats to this species and its environment and the missions of the Le PAL Nature Foundation
At the water's edge on the beach: presentation of the species, animals and their way of life
Moment of sharing in the basin with the seals marine calves of the PAL
WHEN IS THIS ACTIVITY AVAILABLE?
It is available on Mondays, Wednesdays and Fridays in May, June and September excluding public holidays according to the park's opening calendar.
This activity will take place at 2 p.m.
WHAT ARE THE REQUIREMENTS FOR THIS ACTIVITY?
Be 12 years of age or older.
Know how to swim. The activity is supervised by a BNSSA and PSE1 holder, but it is mandatory to be comfortable in an aquatic environment.
Groups will be made up of a maximum of 4 people.
Must be equipped with a swimsuit and a shower kit (towel, gel).
The park provides wetsuits, shoes and shower changing rooms.
Not be affected by viral and / or infectious diseases. The health pass will be required when entering the park (see park access conditions).
For people with reduced mobility and pregnant women, please let us know before booking the meeting to assess whether our facilities meet what is necessary to make your experience as safe as possible.
HOW CAN I PAY FOR MY ACTIVITY?
You can pay either by bank check or directly by transfer.
HOW CAN I BOOK?
You must create an account or be logged in to request a reservation.
Registration requests can only be made by completing the online form.
This form is not a reservation.
Requests will be processed in order of arrival.
You will be contacted by phone to make your reservation subject to availability.
Remember to enter your phone number so that we can contact you.