Enjoy the park all season
Unlimited access to the park !
Do you love Le PAL and want to come back several times during the season? Opt for the Season Pass which pays off from the third visit. Come and enjoy unlimited attractions*, animals and numerous activities throughout the season, according to the park's opening schedule.
*For safety reasons, access to certain attractions is subject to minimum and/or maximum size restrictions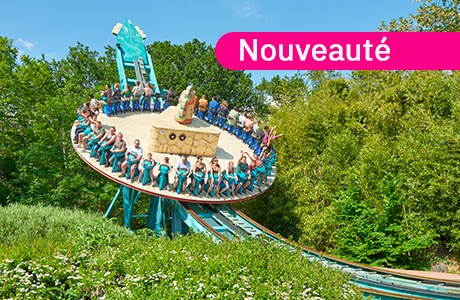 Reduced rates EXCLUSIVE WEB all year round
Adult Web Season E-Pass (from 10 years old): €85 instead of €95 for the Season e-Pass sold at the cash register
Children's Web Season E-Pass (up to and including 9 years old): €75 instead of €85 for the Season e-Pass sold at the checkout
Children under 1 meter (measured wearing shoes) do not need an e-Season Pass to access the park
Please note: no orders will be processed by mail
Advantages of the Season Pass
On presentation of your e-Season Pass, benefit from discounts:

Get your e-Season Pass instantly!
Step 1: I choose my Season Passes
Step 2: I pay online (Bank Card or Connect ANCV Holiday Check or both)
Step 3: I indicate for each Season e-Pass: name, first name, date of birth and ID photo
I choose a correctly framed photo, like below:

Step 4: I receive my Season e-Passes by email and I download them to my smartphone (no need to print them)
Tip: I can have all my family's Season e-Passes on one smartphone
Step 5: Each time I visit PAL, I present my Season e-Pass at the park entrance directly on my smartphone accompanied by an identity document
I have Classic Holiday Vouchers (on paper), what should I do?
Do you have Classic Holiday Vouchers (on paper) and would like to transform them into Connect Holiday Vouchers?
The value of paper checks to be exchanged must reach a minimum amount of €30.
The exchange is free* and can be done at any time of the year. From 13/12/2023: €10 deducted from the amount exchanged (processing cost)
You can convert part of your titles to digital format and keep the rest in paper format.
* The exchange is free but the ANCV asks you to send in a secure envelope (by registered mail with acknowledgment of receipt) the Classic Holiday Vouchers (on paper) that you wish to exchange. This shipment is your responsibility.
Some information to consult before transforming your Chèque-Vacances:
Connect Holiday Vouchers allow you to pay a service provider to the nearest cent, for a minimum amount of €20.
To use them, an Apple or Android smartphone (minimum version iOS 12 or Android 6) is required.
You must have an email address.
Think about the processing time! To carry out the exchange, your paper titles must be returned by post (registered delivery at your expense); you will receive an e-mail to activate your Connect Holiday Vouchers within 8 working days after receipt of the vouchers to be exchanged by the ANCV.
To proceed with the exchange
Go online to the ANCV website, My Services > Exchanges (top right), following the steps indicated step by step.
For security reasons, you will be asked to identify yourself with the France Connect service. You must therefore have a partner account for this service.
Prepare the requested information:
the organization number
the year of issue of the securities to be exchanged
the title numbers
Choose to enjoy the park unlimitedly
For adults and children alike, come and spend a day with family or friends several times a year! Take the time to observe, watch for and admire the many species of wild animals present in the park. Take on the impressive thrill rides several times, share unlimited laughs in the family attractions and amaze the little ones in gentler attractions. Take part in the different activities offered daily and be present at all the exceptional events in the park! Valid throughout the season on opening days and times, come and enjoy the park to the fullest!