le pal and its trilogy
An original and very popular park
Le PAL was founded in 1973 and owes its originality to the combination of three aspects: it is the only park in France that combines park attractions with animals and unusual accommodation. Le PAL offers 30 attractions, 700 animals, animal shows and educational presentations on a 50 ha natural site. With 620,000 visitors in 2019, Le PAL is among the 5 most visited theme parks in France. It is now the third most visited tourist destination in the new Auvergne-Rhône-Alpes region.
Underpinning this success is the fact that each year Le PAL invests 25% of its revenue in new features (attractions, dedicated areas for animals, accommodation, catering, reception area, etc).
Attractions: thrills and spills or gentle fun, a destination with a difference, fresh air and family entertainment
At Le PAL, you won't find any tarmac but instead flower-lined avenues that wind their way through an amazing, lush environment. Make the most of this location with a stroll to appreciate the 1,500 different plant species on the site. A blast of fresh air for all visitors!
Each attraction comes with its own ambience and its own destination: Canada (Gold-diggers Lake), Louisiana (Alligator Bay), Africa (King Kong) and many more. Designed to entice you on a voyage, our attractions provide entertainment and allow you to get away from it all. Finally, the great diversity of our 28 attractions, whether you're looking for gentle fun or exciting times, have something for all the family: from little ones to teenagers, parents and even grandparents. A day out at Le PAL is guaranteed fun for all generations, who can discover this unique destination and make the most of their time together!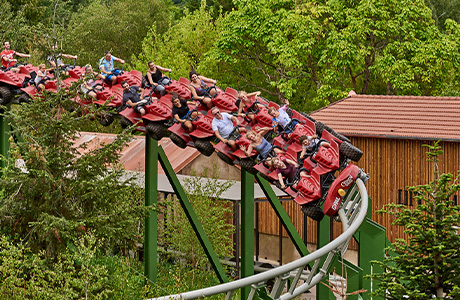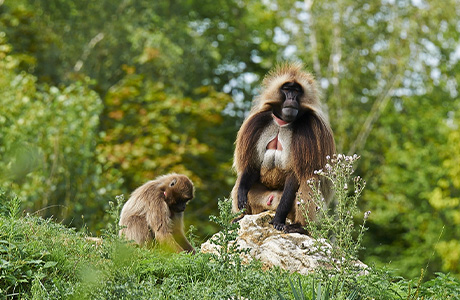 Animals: excitement, learning about life in the wild, and animal welfare
At Le PAL, no two presentations are alike, visitors have to observe, keep a watchful eye and sometimes wait for the animals to move around and reveal themselves... With a bit of patience, you can see tigers swimming, lions perched on top of an old abandoned Jeep, elephants having a shower, a baby gibbon in its mother's arms, leopards embracing, or hippopotamuses having an afternoon nap on their island or swimming peacefully. The park is a place for observing animals, not for immediate entertainment. Visitors can observe the behaviour of the different species as they behave in the wild in huge spaces: that's another specific feature of Le PAL.
A responsible and committed park
Le PAL invites visitors to discover animal biodiversity and better understand it at a time when many ecosystems are under threat. Everything has been designed to allow the animals to move around with relative freedom in high-quality environments that reflect their natural habitats. Wide open spaces, dense and lush vegetation, natural features (climbing structures, plant life, rocks, waterfalls and vines) and spacious night-time shelters: no detail was overlooked in our effort to meet the animals' needs.
At Le PAL, the hippopotamuses are not presented using artificial features in enclosed spaces, like the glass-walled pools found in some of Europe's major zoos. Here, visitors play an active role in discovering the park's wildlife. They must put themselves in a position to be able to observe the hippopotamuses as they move around with relative freedom in a natural 1.5 ha aquatic space. This is a unique facility in Europe both in design and because of its dimensions. Our promise to you: magical, fun-filled moments, unforgettable memories, and the observation of genuine wildlife scenes with animal welfare as a priority. The approach adopted by Le PAL meets a dual requirement: to guarantee the well-being of our animals and to raise awareness about biodiversity among the wider public.
Accomodation: a unique facility in Europe
Head to Africa without ever stepping on a plane, and immerse your family in the atmosphere of the Savannah or the African Great Lakes. First built in 2013, our 31 lodges on stilts are as popular as ever (16,000 reservations in 2015, from April to late August and on weekends from September to early November)! These authentic replicas of the camps located at the heart of southern Africa's wildlife reserves are a unique concept that gives guests the chance to spend the night surrounded by the animals of the African Savannah (wildebeest, zebras, antelopes and more) and wake up to see hippopotamuses swimming peacefully in a natural environment, an opportunity being taken up by an increasing number of families who travel here from across France and other European countries.
Since the creation of the "Lodges" in 2013, Le PAL has increased its appeal among French and overseas tourists looking for a taste of wildlife and the chance to get away from it all. It also reflects the current trend for leisure parks offering short stays.