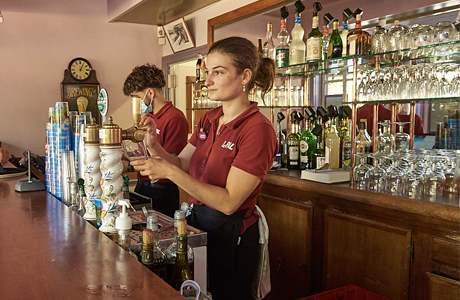 Join our teams
Do you want to work at PAL? It's possible ! Be part of the adventure where more than 380 employees at the height of the season are busy providing an unforgettable experience to our visiting friends.
Being part of our teams also means being part of a global corporate approach for development and sustainable tourism.
As such, we received several certifications, but we also obtained a score of 82/100 on the professional equality index in 2021!
the zoo trades
Trainees at Le PAL
Today, there are several possibilities for working in a zoo. Biologist, zoologist, ethologist, veterinarian, educational manager, trainer or trainer are all different professions that require various training.
The animal care profession is the most represented. To apply for this position, you must register in one of the three animal care schools, and obtain the diploma. Several possibilities are available to you, either after the 3rd year by entering a BEPA (Carquefou (44) or in Vendôme (41)), or after the baccalaureate by enrolling in an adult care school.
There are 4 schools in France which train the profession of animal handler, the school of Carquefou (44), that of Vendôme (41) that of Gramat (46) and that of Sury Le Comtal (42). The website www.leszoosdanslemonde.com, can also, through its forum, answer some of your questions. The selection for entry into these schools is more and more difficult because the supply is constant, while the demand is growing ... Schools require an experience of several months of internship in animal parks, even before any selection. These periods of internship are difficult to obtain, because zoos require conventions that often students cannot obtain. There is a good way to resolve this impasse, by registering with organizations such as Pôle Emploi, the Mission Locale or even ACFI Conseil.
Next to the trainers live the trainers-trainers. They often work with marine mammals, birds, etc. these people come from the same backgrounds, but they often have an atypical background. They have generally attended animation schools and have personal qualities which predispose them to public presentation and training (ease of communication, charisma, patience and thoroughness). Several other positions also exist in zoological environments, such as that of zoologist, biologist, ethologist, educational and veterinary animator. These positions are very often combined with that of animal manager, veterinary surgeon, etc. Almost all zoos today work with a full-time veterinarian, while the other positions are more scarce, although growing.
At PAL, the teams are made up of a veterinarian, a zoological manager, an animal manager, an educational manager, 10 trainers and 15 animal trainers.