6 HOURS OF IMMERSION
Healer for a Day - Full day
During this winter, Le PAL offers you the opportunity to become an animal caretaker for an entire day!
With privileged access to the park in winter, you accompany the animal caretaker in his daily life. On the program preparation of food rations, creation and implementation of enrichments, raising awareness of animal welfare... Take the time to observe the animals in a privileged way and discover them in winter and in all weathers!
On the program for this day, discovery of different sectors*:
Carnivores (Asian lion, Sumatran tiger, red panda, etc.)
Herbivores (antelopes, Rothschild's giraffe, mini-farm, wallabies, etc.)
Asian elephants
Primates
Zoo Kitchen
*Sectors may vary depending on the organization of animal caretakers and sometimes the weather.
Service and price
6 hours of immersion (full day)
200€ per person
Plan a midday meal
Part of this sum is donated to the Le PAL Nature Foundation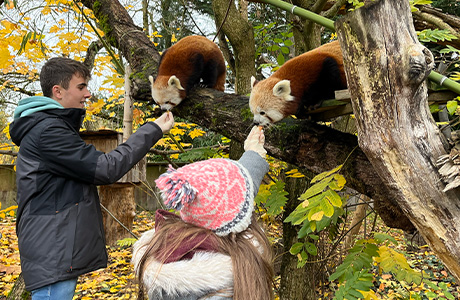 3 HOURS OF IMMERSION
Caregiver for a Day - 3h immersion in winter
We welcome you in the morning or afternoon to follow the daily life of an animal caretaker! Several missions will be entrusted to you in order to ensure the well-being of the animals and to discover the profession of animal caretaker. In full immersion you will be able to exchange with the healer and share an unforgettable experience!
Choose your animal sector:
Carnivores (Asian lions, Sumatran tigers, Canadian wolves, meerkats, red pandas, etc.)
The emblematic (different sectors including carnivores, Asian elephants, primates, birds, etc.)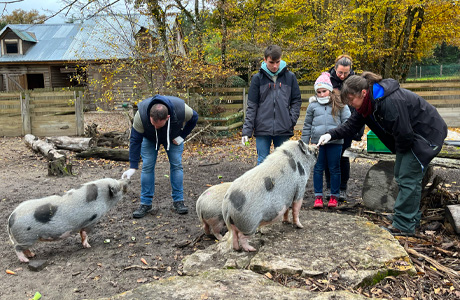 Questions answers
When are these activities available?
They are available from the return from the All Saints holidays until the end of February, including during school holidays.
Outside school holidays, they are organized on Mondays, Wednesdays, some Fridays, Saturdays and Sundays.
During school holidays, they can take place every day.
What are the requirements for this activity?
Be 10 years or older
Anyone between the ages of 10 and 11 inclusive must be accompanied by an adult who pays €120 for the Caretaker for a Day activity - Full day (6-hour activity) and €80 for the Caretaker for a Day activity - 3 hours of immersion in winter
It is possible that 2 people participate in the same activity provided that one of the people is at least 16 years old
The activity can be offered to 2 people
For lunch for people doing the Caregiver for a Day activity - Full day (6-hour activity), 2 options are available to you:

Plan your meal for lunch, microwaves will be available to participants.
Book a €12 meal ticket at the Quai West (depending on when it is open).
How can I pay for my activity?
You can pay for the activity either by bank check or directly by bank transfer.
How can I book?
You must create an account or be logged in to make a reservation request.
Registration requests are made only by completing the online form.
This form is not a reservation.
Do you want to make a reservation request for several people and different activities? Fill out only one form and leave us a comment specifying the number of people and the desired activities.
Requests will be processed in order of arrival.
You will be contacted by phone to make your reservation subject to availability.
Be sure to provide your phone number so that we can contact you.
« A moment that matters »

We were welcomed by Aurélie who made us discover the park in a completely wonderful way. I have known the park since it opened. Discovering the park without visitors, and from behind the scenery is an exceptional experience that will remain a moment that counts.

Avis de Monique and Christian - Healer for a day winter 2022

« A big thank-you »

Thank you for having allowed us to discover different activities of the profession of trainer, from the most "magical" (feeding, observation near the animals...) to the less glamorous (cleaning, preparation in the kitchen of the next day's rations) but nevertheless essential. [...] Thank you for having offered us the possibility of rubbing shoulders with many animals, of different species and sizes.

Avis de Evan and Fabienne - SDJ full day