Follow the evolution of the plants to...
...ensure the reforestation of Borneo
From the nursery to the forest
To go further in forest conservation, Borneo Nature Foundation (BNF) has launched a seedling survival program. To do what ? This program ensures the survival of the seedlings and the rest of the existing forest. Because even once replanted, there is no guarantee that the plant will resist. The BNF teams therefore come to give a little help to the plants in difficulty: watering, monitoring, etc.
Studies have shown an increase in the life expectancy of the different species of around 81%, 6 months after planting. This figure confirms the success of the teams and highlights their work which allows the creation of resistant, strong and persistent trees.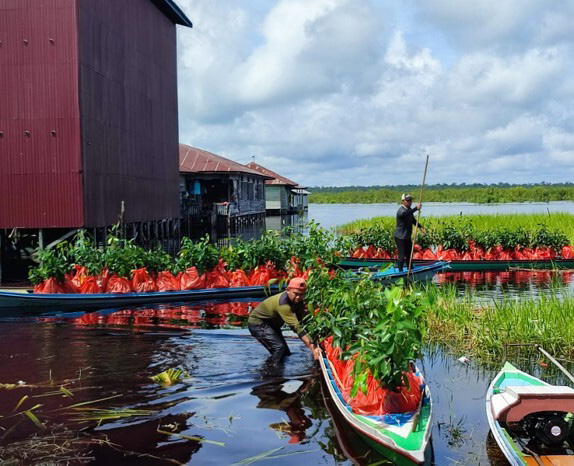 Protect the areas most at risk
The Sebangau Forest, located in Indonesia, is one of the largest unfragmented lowland equatorial forests. This is home to the largest protected population of orangutans in the world! Unfortunately, its density is decreasing more and more and taking with it the biodiversity and the stock of natural carbon that it abounds. In 2004, BNF enabled the creation of the Sebangau National Park with a conservation objective.
Last April, to meet the priority of reforestation, 62,000 plants from local nurseries were replanted in the northern Sebangau National Park in another nursery of the association.
Unfortunately at the time of global warming, Borneo has to deal with forest fires... To protect the rainforest, BNF collaborates with 6 community fire teams and patrol teams. The association shows its support by providing installation costs, training, equipment, financing and coordination, during the fire season.
Fill up on new things!
Our last News
Births, new arrivals, new arrivals, tips, tricks, theme days ... Stay informed throughout the year of the latest news from the park. Your favorite park will no longer have any secrets for you!
All the News